What we're watching on the big screen this September
Trolls World Tour
After it's initial release was delayed in March, we're excited that Trolls: World Tour is coming to the big screen in all it's rainbow-dense musical glory this September 17. Poppy and Branch discover that there are six different troll tribes scattered over six different lands. Each tribe is also devoted to six different kinds of music — funk, country, techno, classical, pop and rock. When rockers Queen Barb and King Thrash set out to destroy the other music, Poppy and Branch embark on a daring mission to unite the trolls and save the diverse melodies from becoming extinct. It's a colourful feast for the eyes for the kids that will have you boppin' about long after leaving the cinema.
The Secret Dare to Dream
Alright all you Nicholas Sparks fans, this film oozes with all the heartfelt lovey dovey stuff we all secretly enjoyBased on the 2006 best-selling book The Secret, the films centers around Miranda Wells (played by Katie Holmes), a hard-working young widow struggling to raise three children on her own. After a powerful storm and devastating challenge, the mysterious Bray Johnson (the dreamy Josh Lucas) re-ignites the family's spirit. But, he comes carrying a secret – one that could change everything! An incredibly uplifting and empowering film, to be enjoyed by the young, and young at heart.
Paw Patrol: Jet to the Rescue
As a mother with a Paw Patrol obsessed 4-year old, there's no missing seeing Chase and all his puppy pals on the big screen.  This September 10, Chase, Marshall, Skye and the rest of the gang jet to the rescue after discovering the Duke of Flappington has stolen a powerful levitation gem from the royal castle. Jet to the rescue with Paw Patrol these holidays!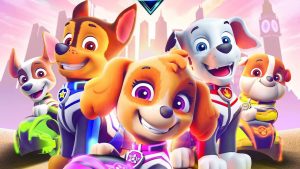 The Secret Garden
From the Producer of Harry Potter & Paddington, we already know this one is going to be a winner for the whole family! When 10-year orphan Mary Lennox is sent to India to live with her uncle and his strict housekeeper in their mysterious Yorkshire manor, she feels more lonely than ever before. But her curiosity and determination lead her to explore the forbidding house, discovering an enchanted and boundless garden that has been hidden for years, reflecting her limitless imagination.
Starring Julie Walters (Harry Potter lovers, you'll recognise this face as Mrs Weasley!) and Colin Firth, you'll want a part in this Narnia meets Harry Potter adventure to The Secret Garden.